New York, May 7, 2018: let's the party start and so be it. Amen
OK, we all know what the MET and its history can be summed up in the New York fashion parade that involves celebrities, models and gurus of the fashion system on a red carpet that has almost, if not more, the same importance of the night of the Oscar (here is a link that explains if you do not know what is the Met), whose collection of tickets (about $ 30,000 each) is donated in favor of the Metropolitan Museum of Arts Costume Institute di New York  and the evening of gala represents the inauguration of an annual exhibition whose theme also inspires the party's dress code
Every year, therefore, a different theme to inspire their outfits. This means that "fashion" considered as art and free creative expression encounters the spectacular nature of Cirque du Soleil (at least for some participants) in its more or less refined forms. 
In short, a moment of pure orgasm for the creativity of the designers involved that this year have delighted us with celestial or demonic clothes, brocades and embroidery all perfectly in unison between the game of the sacred and the profane.
We return to May 7, 2018, whose religion theme was: Heavenly Bodies – Fashion and the Catholic Imagination. [/ su_highlight]
So, apart from that, for the MET Gala 2018 the celebrities … have been "dressed up by the stylists", daring in creativity and being inspired by this theme following a single password: amaze by interpreting the sacred and the profane.
To remember that after the catwalk on the red carpet, guests will attend a preview of the show before sitting at the usual dinner (that with some clothes it would be interesting to see photos of how they will eat their meals …)prima di sedersi alla usuale cena (che con certi abiti sarebbe interessante vedere le foto di come consumeranno i loro pasti …)
In addition to Donatella Versace, the names of the designers who contributed to the fashion parade are Alaïa, Balenciaga, Dior, Chanel, Dolce & Gabbana, John Galliano, Jean Paul Gaultier, Yves Saint Lauren, Moschino, Christian Lacroix, Karl Lagerfeld, Lanvin, Rodarte and Valentin, Prabal Gurung, Oscar de la Renta and many more.
One comment: this MET Gala 2018 was the proof that every designer could very well be Dolce & Gabbana, tracing the stylistic inspiration that the two designers have been proposing for a series of years, in addition to pride Italian and Sicilian
At the beginning, when you see the looks (on the above mentioned Vogue link) it seems to witness the epic and the celebration of the 33rd year of the Sicilian fashion house then, for a moment, you realize that you are watching the looks of the MET and, knowing the theme, everything acquires a different interpretation.
Designers like Versace, John Galliano, Gaultier, Jeremy Scott for Moschino have shown that if only they wanted could create and even exceed the collections of Domenico Dolce and Stefano Gabbana, of which we remember the choice to go along (how could they?) Sara Jessica Parker in her impractical outfit "December 25th crib".
Obviously we must applaud the courageous effort and commitment shown in recent years by the Dolce & Gabbana brand that has made tradition and Italianism a flagship fair, bringing the culture of Baroque Italy, with its values ​​and styles, all over the world. But I was in their shoes, I would worry about the immense skill of the other designers in reinterpreting a theme that is and will be for years the DNA of this brand. (A bit 'of healthy competition has never hurt!) …
A final applause should be made, finally, to all those men, celebrities and not, who have not opted for the classic tuxedo but also dared them with the religious theme, playing and having fun with style. .
The best dressed?
Anna Wintour
Celestial in Chanel, super-sophisticated, elegant and not excessive. In one word Divine (in opposite way for who still thinks she's the protagonist of "The devil wears Prada")
Jennifer Lopez 
in Balmain, you could not really define she is sober, but compared to all the other looks it is definitely elegant with a regal bearing that, as usual, sets it apart. Hair, a touch of class outside the box.
Gigi Hadid
feminine and elegant, a heavenly vision to which, Donatella Versace should have inpsired, since the dress is precisely Versace.
Cardi B
In Moschino, pregnant, remembers a cross between Cher and Beyoncé, whose result is more than satisfactory. The Maison Moschino has definitely amazed in all this epic of embroidery
Diane Kruger 
dressed in Prabal Gurung, with attached 5 meters long train. A decidedly celestial vision, an elegant cloud of satin that floated between the steps of the staircase.
finally this time she was herself. In an event where everyone could be her, this time in Jean Paul Gaultier it was simply Madonna. Long live its counter-tendency to be "soberly" herself.
in Vera Wang, a celebration of the Sistine Chapel. A breath of freshness, refined and very poetic.
demonically beautiful in Oscar De La Renta. Definitely profane with a red degradè in tulle
Zendaya 
in Versace, she represents an excellent reinterpretation of Giovanna D'arco. A look decidedly more in contrast to the extraordinarily elegant result even outside the usual scheme.
the worst look?
Rihanna
a dress by John Galliano, embroidered and brocade with his hat reminiscent of the Pope's miter. Had it been at least a long dress, it would have seemed less vulgar and out of place than it is in this short front and long version of the back.
Sara Jessica Parker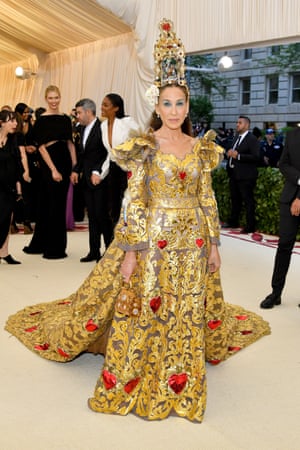 she showed up on the red carpet with a crib on her head and a look that will remain in her memory like the flop of the year. She honestly has the podium of the worst dressed. Nativity as an headpiece apart, we also can see extention, flower on the head, brocade, embroidery, gold and so on and so forth. Even the statues of the Sicilian Madonnas (St. Agatha of Catania apart) are more sober than her. The question come spontaneously: why?
Donatella Versace
Miniskirt dress and brocade boot in blue. Really? She who should have amazed, icon of style and above all at the head of a fashion house that has dressed most of the stars present at the MET more so should have opted for something much more beautiful for her body. As if she lacked an archive from which to draw … she opted instead for a brocade blue miniskirt dress with attached boot that, however much they showed how slim she is at her age, certainly did not do her image amazing. Arms uncovered? No comment!
Alessandro Michele, Lana del Rey, Jared Leto
photographed together, the triptych seemed to emulate the cast of an ipothetic film about the passion of Christ directed by Carmelo Bene. Whoever interpreted Jesus, however, is unknown …
Katy Perry
she definitely missed the event. In Versace, she was perhaps convinced to go to the Carnival parade in Brazil, but aside from amazement with the two huge wings, the gold of lamé, she opted for such ugly boots that in addition to making her stubby legs should have two wings to … fly away from that outfit.
Kate Moss
nothing to say about the dress in itself of Anthony Vaccarello. She was simply dressed for a night at the discotheque in London, with a hint of feathers reminiscent of the harpies; in black of course.
FRANCES MCDORMAND
in Valentino. Well what to say, she looks more like a tree of the famous Botticelli's Spring. The doubt comes: had someone explained her the theme of the event?
Please follow and like us: